Q&A with Victor Rust: The Moody Blues Recording Catalogue
Moody Blues Attitude would like to thank Victor Rust for this exclusive interview!


Q1: I have to ask the most obvious question first: Based on the title alone, this sounds like a technical book oriented to collectors. Can you tell me why a fan who is NOT a collector would want to own a copy of this book?
Victor Rust: The title really follows on from my other two books about the music of the Shadows and Cliff Richard. For both acts, there wasn't really any book that focused on the music and what had been recorded. For a while I was working with the idea of calling it a Songbook, but that had other connotations plus there was more information than simply the songs themselves. The term 'Recording Catalogue' came to me when I was working on the design of the Cliff cover as I noticed that his initials are the reverse of the two letters starting 'Recording Catalogue'; however, I abandoned the design but the title stuck. On to the Moodies book, I wanted to differentiate this from the Encyclopaedia as being something again focusing on the recorded material. It is true that there is technical information in the book (instruments and vocals performed, studio locations, studio personnel, etc.), which is certainly primarily aimed at the collector but also at the fan who is interested in how the recording is constructed. But, more than that, I have tried to tell the story of the song, how it became the well-loved tune fans know and then, where more than one version exists (usually live but often re-recordings), how it has evolved through those recordings. In addition, there are historical snippets and several facts and figures regarding the Moodies group and solo longevity. I really think there's something for everyone.
Q2: How and when did you get the idea to publish a catalog of Moody Blues recordings?
Victor Rust: When I started the Encyclopaedia, I really wanted it to be the one volume but, with the wealth of information that I found, this was obviously not possible. I was acutely aware that a financial outlay for a two-volume book would be difficult for a number of fans to fund but there was no way of excising the information down to the one volume in its format and design. Since the publication of the Encyclopaedia in 2008, I have also published the Recording Catalogue for Cliff Richard's output (Britain's answer to Elvis, as he was billed in the fifties and, of course, in the Moodies realm with involvement in Everybody's Got a Crisis in Their Life) and another for The Shadows (Britain's competitors for The Ventures and backing Cliff for his first ten years; known to the Moodies because of their influence, and involvement in a number of recordings). It occurred to me that I could then write a similar book for the Moody Blues that focused on the music with snippets of history and background thrown in, which is what I've set out to do. Plus further research and new recordings meant that there were almost two hundred new updates to the list of songs and the time seemed ripe to return to my musical first love: the Moodies!
Incidentally, in the background, I have been preparing a (slimmer) volume on Barclay James Harvest (the 'poor man's Moody Blues'), which I hope to start work on in earnest in the spring.
Q3: What were the most difficult challenges you encountered while researching information for the book?
Victor Rust: The principal difficulty is always trying to source the recordings. In order to be able to write cogently about it, I always feel that I need to deconstruct the performance and build it back up - that might sound a bit pretentious but, in so doing, I have had a few epiphany moments along the way. The problem is most acute on the really rare stuff, in part because the very fact they are rare means they are difficult to get hold of and usually expensive, but mainly because of the time it takes to get hold of the recordings. But the hunt is always worthwhile! The secondary difficulty is separating fact from myth and building up a picture of what was happening at the time of writing and recording within the performers' lives and culturally. For all of this, though, the satisfaction derived from the research is enormous!
Q4: Do you have any interesting stories about people you met along the way?
Victor Rust: It's always interesting meeting other fans (particularly in Britain because, in this country of (most of) the Moodies' upbringing, there really isn't the level of fan support that there is in America - hence the low frequency of tours here). You get a different perspective from them and this adds to the picture that I have tried to build up. I have also encountered a few people who feel they can talk on behalf of the Moody Blues, which has led to some interesting conversations! And, of course, I remember vividly that cold, grey September day in Cobham when I finally managed to meet Ray Thomas and his lovely wife Lee at his boxed set signing at the Threshold store, presenting him with a set of the Encyclopaedias. I'm also indebted to fellow Brit Steve Davis who, having purchased the Encyclopaedias, while recuperating from surgery, went through the two volumes and contacted me with a long list of suggestions for embellishment, some corrections and other pointers that raised further questions in my mind - that process helped formulate what I wanted to do for this book; so, thanks, Steve!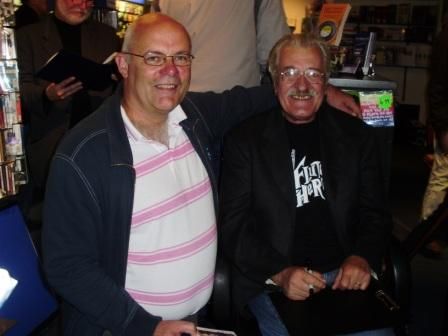 Victor and Ray



Q5: Did you encounter any legal or copyright problems that prevented you from publishing information or images that you would have liked to include in the book?
Victor Rust: Not as such. I deliberately steered away from putting photographs in the book because trying to trace the owners would be too time-consuming and, besides, space is limited and I also wanted the focus on the songs rather than a coffee table book about the band. The sleeves and labels are all from my collection or from sources who have granted me their use. There are a few that don't appear to have an owner but I have made it clear in the book that where this is an oversight, I'm happy to rectify it in future editions. In other cases, I've had to simply put in a generic image (as you'll see). Interestingly, none of the record companies have responded to my communications to date. On the tricky subject of bootlegs, I have taken the policy that if the song is known to have been recorded and is out in the public arena, then I must include reference to their existence.
Q6: I'm going to ask you for a spoiler or two. In the course of research, did you discover anything that pleasantly surprised you unexpectedly? And did you run into any disappointments?
Victor Rust: I think the biggest surprise was finding out about the John Lodge demos; and, in equal measure, after chasing those down, the disappointing aspect was finding that they were demos rather than completed artifacts. I also keep a running list of latest releases (hence my ability to highlight the release of The Eve of the War and Forever Autumn Medley) and, although some fans generally don't consider members of the group outside of the 'Core Seven' line-up, I was quite disappointed that Denny Laine's promised album Valley of Dreams has not yet been released. Throughout my research, it has always been driven by the analysis of the music and I have always been pleasantly surprised by hearing something new in very familiar songs.
Q7: You've taken the role of being a fan to a whole new level. So I have to ask – What drives you, and how do you see your role in the music world?
Victor Rust: In part, it's about wanting to understand the music and influences behind what the Moody Blues have done and are doing. But in the main, I have been fascinated in the detection of how the individual parts, the nine members of the group, came together and produced the quite different sounds of the group throughout the personnel changes. Listening to the solo albums gives an inkling but there is a musical alchemy that is created from bringing them together. The Moody Blues' music (and, for me, the work of Justin Hayward and Ray Thomas in particular) strum something deep within me and, as a researcher, fan and musicologist, I am perennially in search of that mislaid chord!
When I first started out on this path of research and then writing the book, I, like many other fans, had my favourite Moody. In my case, it was Justin: his songs, I felt, were well-constructed and beautifully flowing and, as new albums were released in the eighties and nineties, I used to read the album sleeves/inserts avidly and look forward to anything that had Justin's name as a composer because I instinctively 'knew' that these would be the best tracks. But that does the others a disservice and I questioned my assertions resulting in a reassessment of everything they had done to that point (including the Denny Laine/Clint Warwick era) and had an epiphany moment - Justin's was not necessarily better; his output merely appealed to me more and I have no qualms about that realisation while the others were different. And that got me on to the path of discovering more behind the songs, deconstructing them, finding the integral part that made it a great song. I have to admit that I came up short on some tracks (mainly Denny's eighties solo stuff) but this was usually because it sounded unfinished.
Ultimately, I would like to ensure that I have produced the quintessential guide to the Moodies' (individually and together) music and, through that, giving others a better insight into what makes the music tick. In truth, if I could have even half the accolades heaped upon my dad (Brian Rust - discographer of American dance band music and traditional jazz) for my work, I would be happy...
And, if I were to dream, I would like Justin (in particular), to come back to me and tell me that he had never thought about what I had written with respect to his songs.
Q8: Is there anything else you'd like us to know about The Moody Blues Recording Catalogue?
Victor Rust: The Moody Blues Recording Catalogue is the distillation of my research and really is an attempt to bring together everything that the Moody Blues have recorded as a group and as individuals. I am hoping that the stories behind the development of the songs and the information about the recordings will inspire Moodies fans old and new to revisit their old recordings and to try out the ones with which they are less familiar because I truly believe that each one is a treat in its own way - if there are any "oh really?" moments for the reader, my work is done. I also hope that the appendix of interesting facts and figures will surprise and amuse - is Justin Hayward a more prolific writer than Mike Pinder? Has Graeme Edge actually appeared on more recordings than John Lodge? Which are the top ten songs that have been recorded a number of times and released under the Moodies banner? From a UK or US chart position standpoint, which Moody is out on top? And so on...




Photo of the author with The Moody Blues Encyclopaedia


Click here to order: http://www.vrpublications.co.uk/index.html
Click here to read about the recently-discovered John Lodge demos: http://moodybluesattitude.yuku.com/topic/9512/John-s-work-unreleased-previously-known
Click here to view the original news release and a sample page from the Catalogue: http://moodybluesattitude.yuku.com/topic/9511