My husband Andrew was born and grew up in the Bristol, England area.  I am American, originally from Chicago.  We now live in Tucson, Arizona.  Andrew and I were in England last June (2012) visiting family and friends when we happened to be in the Wiltshire area, which is not too far from Bristol.  The idea for this travelogue started to form in my head as we drove through the little town of Bourton in Wiltshire, England.  I knew that Justin had spent some of his childhood in this idyllic little village, but I didn't know much else, such as the name of the street nor the actual house where the Haywards lived.  I wrote to MoodyJill and asked for her assistance in piecing together the clues that would help me to locate these sites.  She contacted Mr. Victor Rust, who is the author of the Moody Blues Encyclopaedia.  He sent her the information that he himself has researched and she passed it on to me.  In addition, Jill's husband found the sites and created screen prints with Googlemaps and they forwarded those to me.  Now, I had something concrete to go on.
In addition to the Bourton site, I decided that I needed to get myself to Swindon. Watching the video on this site titled "1984-04-02 RPM Swindon, guest starring Justin Hayward" gave me the street name and address where he was born, 109 Dean Street.
From past interviews, I knew that Justin had written Tuesday Afternoon while sitting in a big field near his parents' home in Swindon. Finally I heard an interview where he named the place...Lydiard Park.  I found the web-site and I felt "I'm just beginning to see, now I'm on my way" because I now had the info I needed to get to these places and photograph them.  So, in May of this year, we flew over to England (primarily to see family, but of course with me plotting and planning my little Justin adventure) and I began my quest.
Without further ado, here are the photos I took in and around Swindon:
I took the train from Stroud, Gloucestershire down to Swindon.  Andrew was busy with other things, so with a sense of adventure, I boarded the train and traveled the few miles to Swindon on my own.  Armed with a map of the city, I began walking from the train station west, but my map was not the most accurate and I began to feel lost in this big city.  It was a cold, windy, damp Sunday morning with hardly anyone about to ask questions of.  I saw a stand of buses and hopped on the first one in line and asked "can you tell me if you go to Dean Street?"  The driver said "yes, I go right past Dean Street.  I'll tell you when we get there". After a short bus ride, the driver signaled it was my stop and as I got off the bus, right in front of me was this sign.  Looking at this photo reminds me of the excitement I felt that morning.
A view down Dean Street with typical row houses as they are called.  I've also heard these referred to as 2 up and 2 down, meaning two rooms downstairs and two upstairs.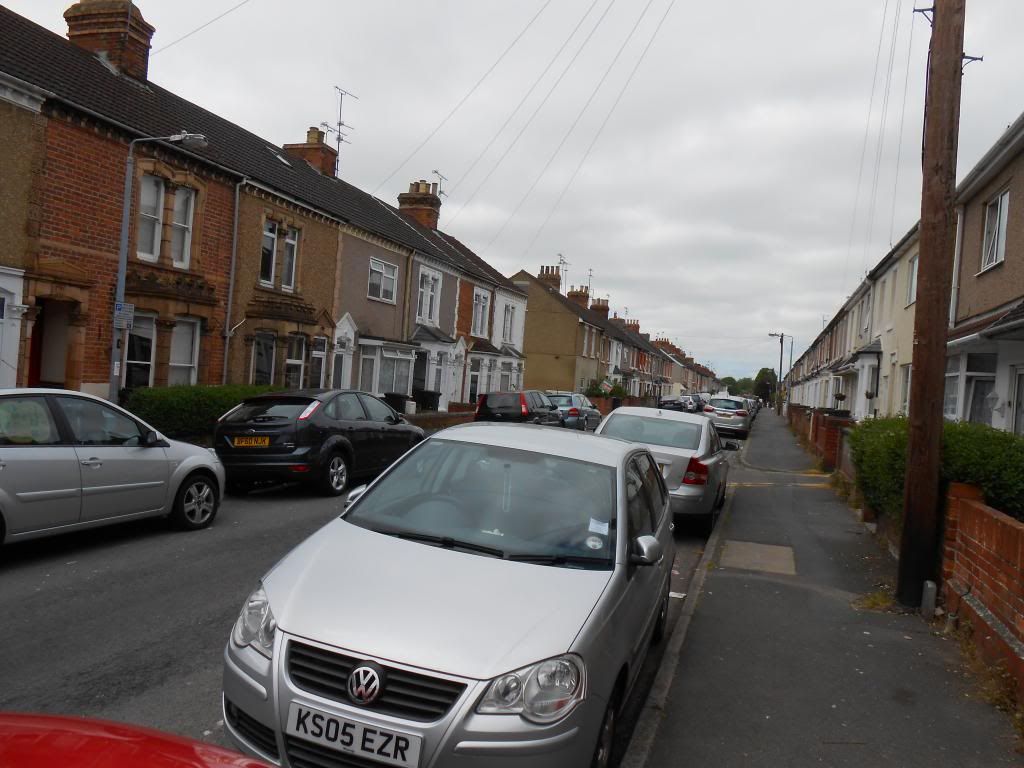 110 and 109 Dean Street, respectively.  According to Justin, his grandparents lived at 110 (the red brick house) and he was born at 109 in the upstairs bedroom.  The family were borrowing the house at the time from friends of his grandparents.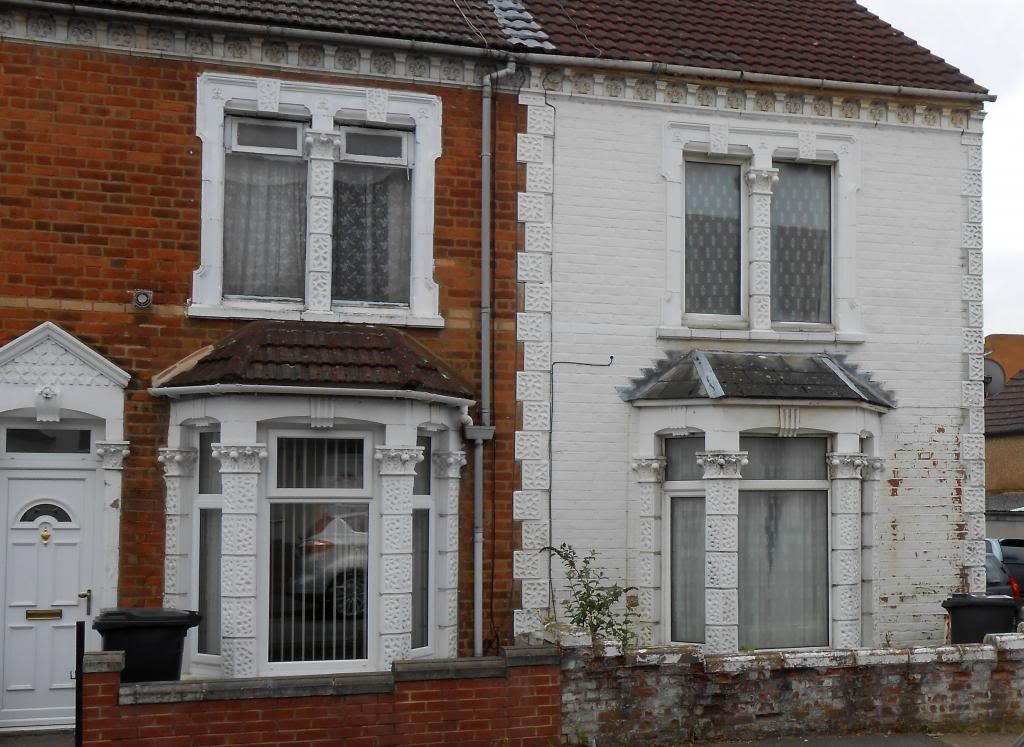 I did have some difficulty determining if these were, in fact, 110 and 109 because, interestingly, 110 was the only house on the street with no address over the front door.  And 109 had no front door and no address that I could immediately see.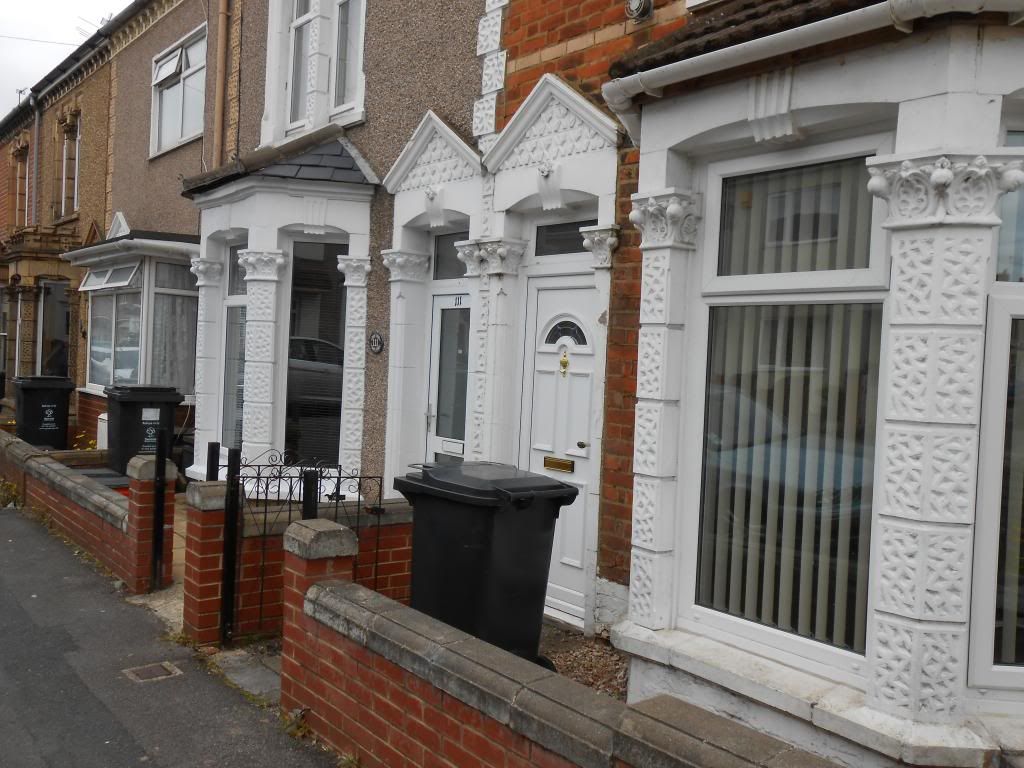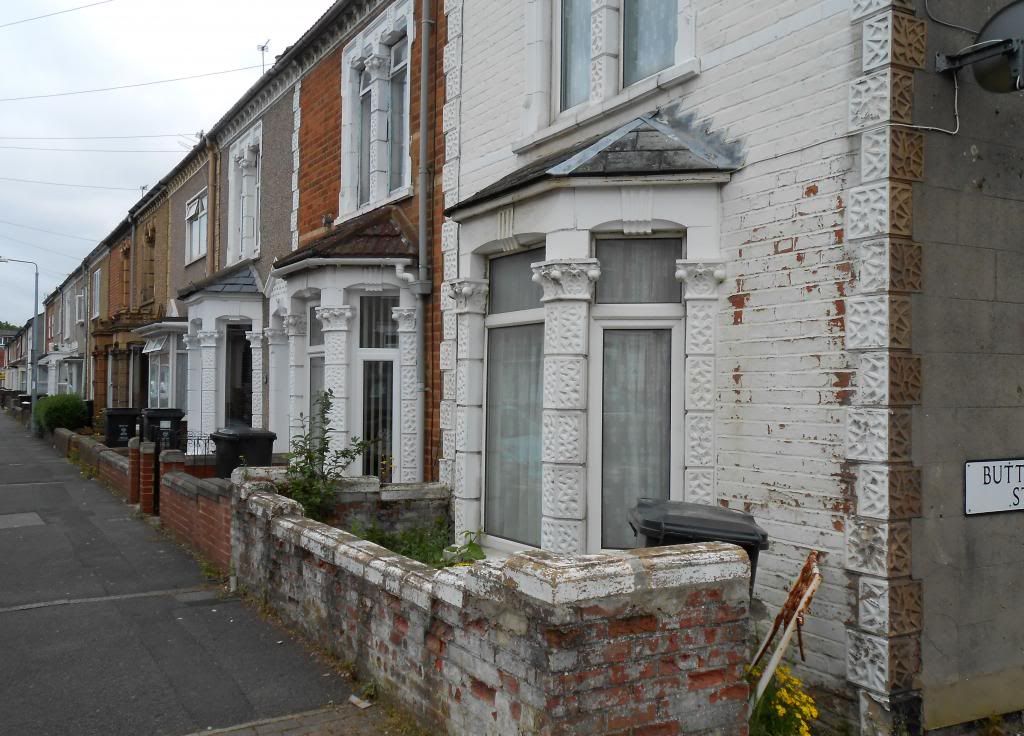 Further confirmation I had the right houses.  There was no front entrance to 109, but this side entrance had the number posted above the door.  Since these two houses were the only dwellings on the street without very evident addresses, I wondered if the occupants had grown tired of fans, like me, showing up peering into their parlours!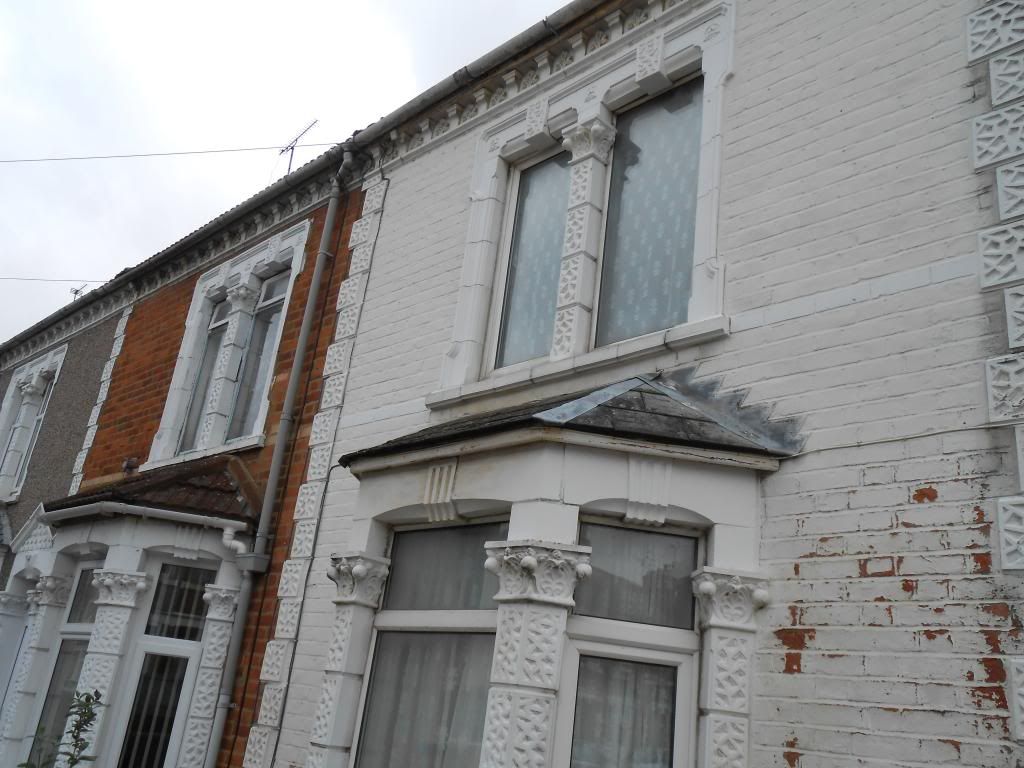 On a much sunnier, somewhat warmer day in early June, Andrew and I revisited the little village of Bourton, and what a delightful place it is!  The next three photos were taken right around the little town square, so typical of these little country villages.
In the background here, you can see a little road leading off to the right with a street sign.  This is Silver Street where the family lived from about 1950 to about 1959.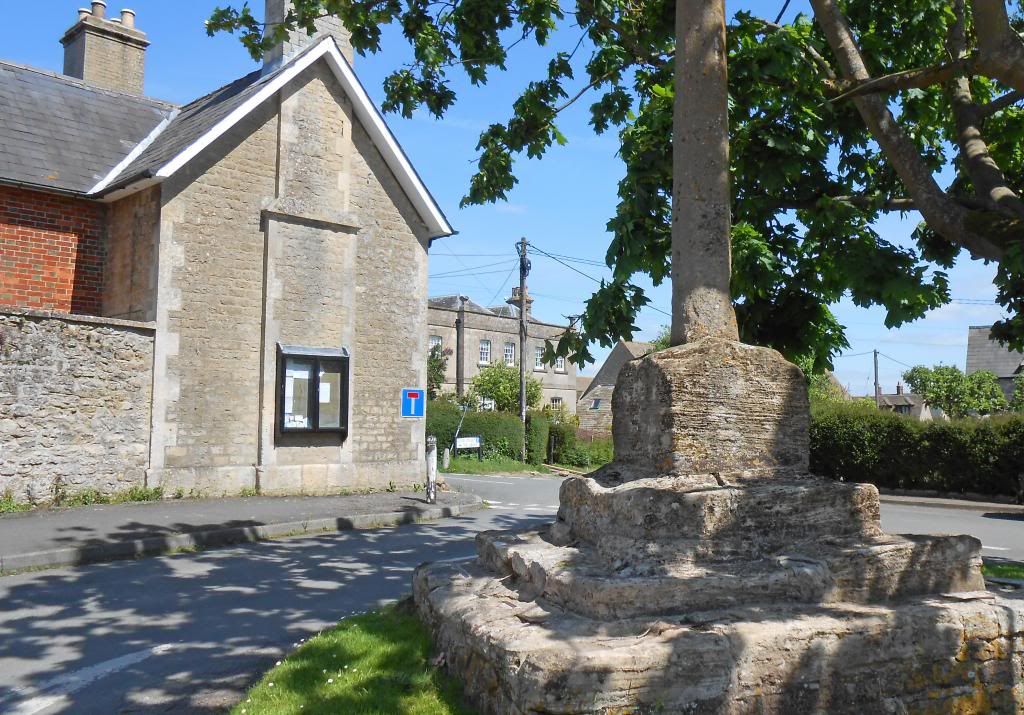 A rather different picture from the row houses in Swindon, here are some Bourton cottages.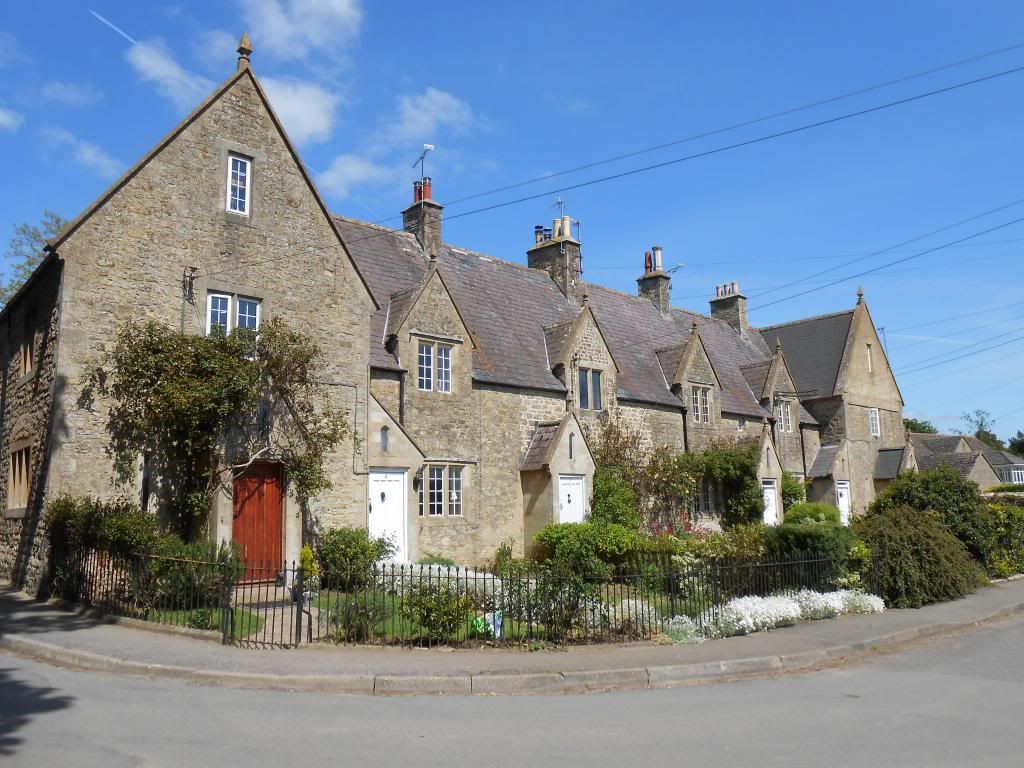 A charming little church just around the corner from Silver Street.
At first, we had a hard time determining if, in fact, this was the home where they had lived, but the screen shots Jill's husband provided me with and the confirmation of a local resident (who lived right across the street and turned out to be a big Moody Blues fan!) confirmed the location.  As we stood staring at the house and wondering if it was the right one, the MB fan from across the street asked if we were looking for something or someone.  When I told them what I was searching for, he said, "oh yes, that's the house.  I'm a big fan!"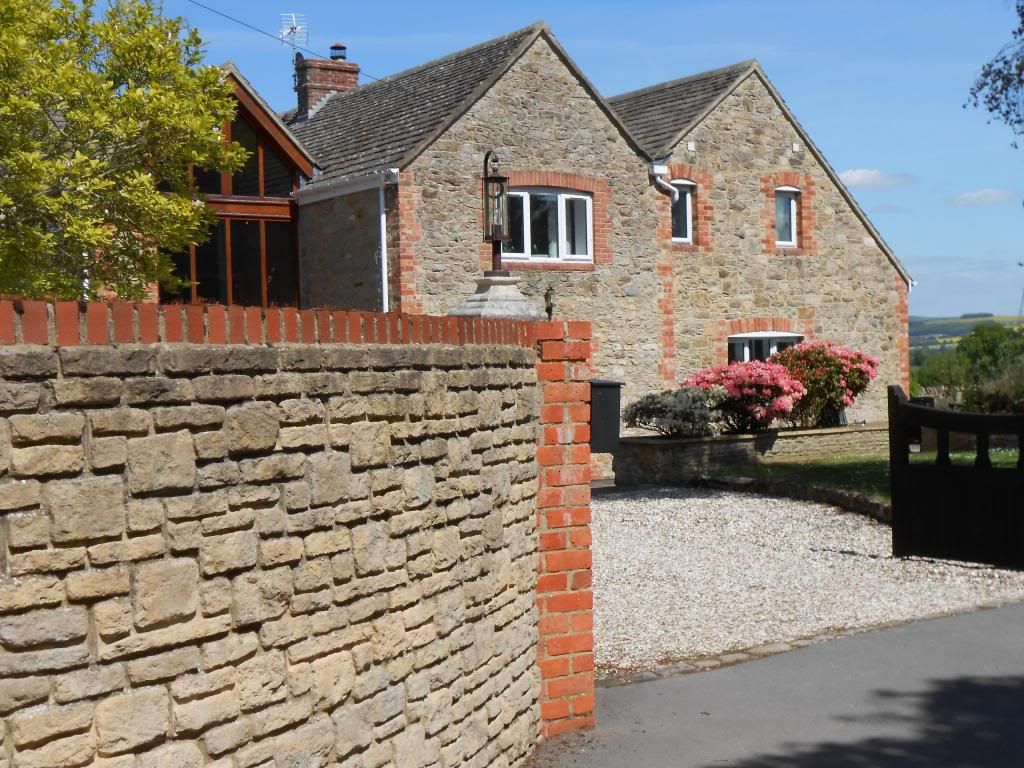 No more than 2 miles from Bourton is the village of Shrivenham.  This is the primary school that Justin attended.
A view of the Wiltshire Downs looking westward from Bourton.  This is the landscape he grew up with and the western skies that Justin talks about where he and his brother imagined their American musical heroes to be. The weather in England generally comes from the southwest with the gulf stream, right across from America.  The Downs is a beautiful area with many ancient sites and features, very interesting and chock full of history.
A couple of miles west of Swindon is Lydiard Park.  It was originally the ancestral home estate of the Viscounts Bolingbroke.  Why should Moody Blues fans be interested?  It's where Justin wrote one of his most famous songs on a Tuesday afternoon.
You can go into the house and see it for a small fee, but I was more interested in the parkland.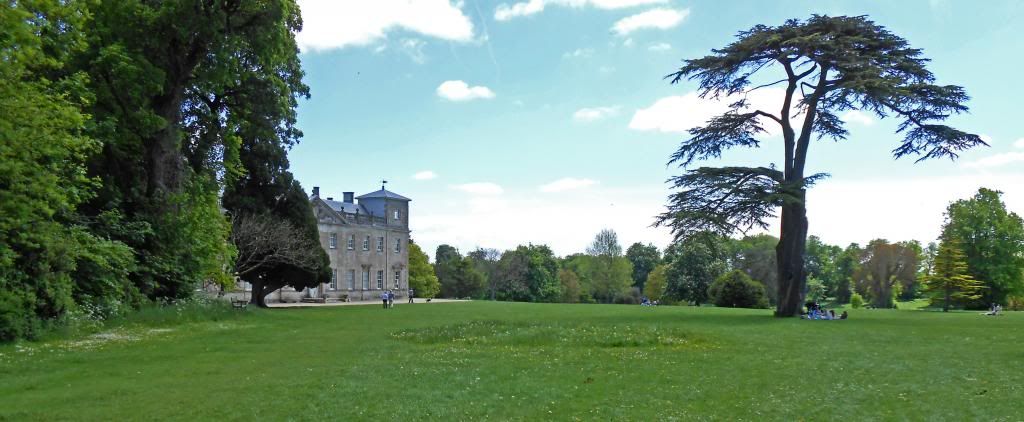 A lovely late spring Saturday and everyone is out enjoying the sunshine and their picnic lunches.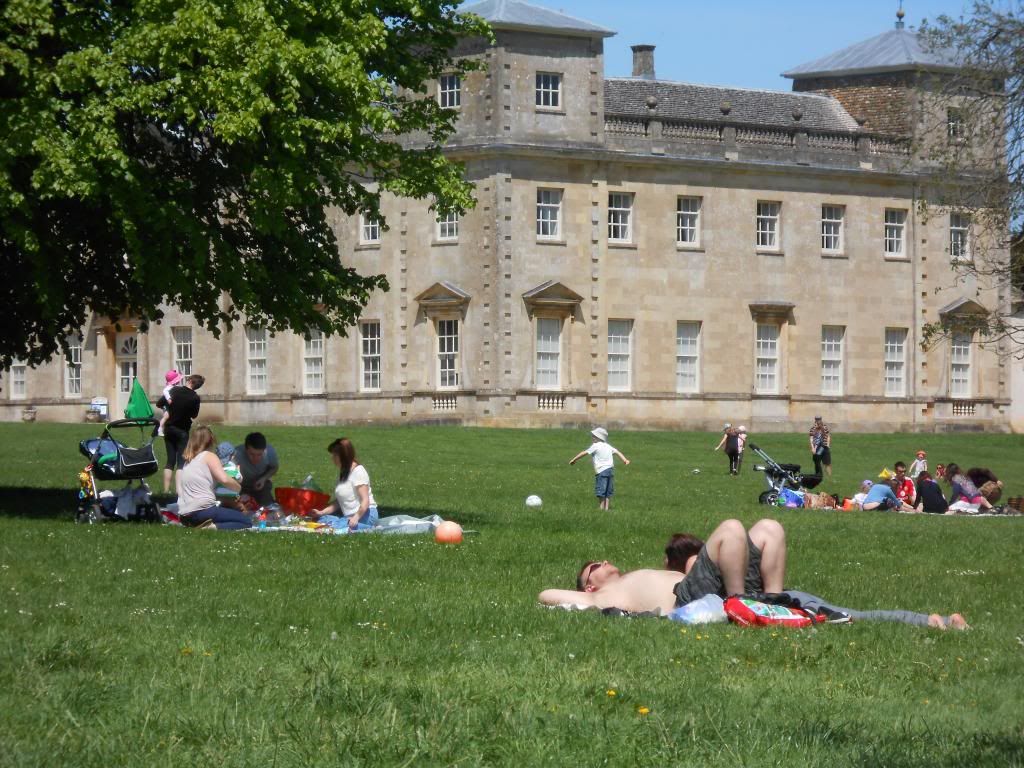 Small lake in the park
Was Justin sitting under one of those trees with his guitar and his little dog Tuesday frolicking about on that afternoon?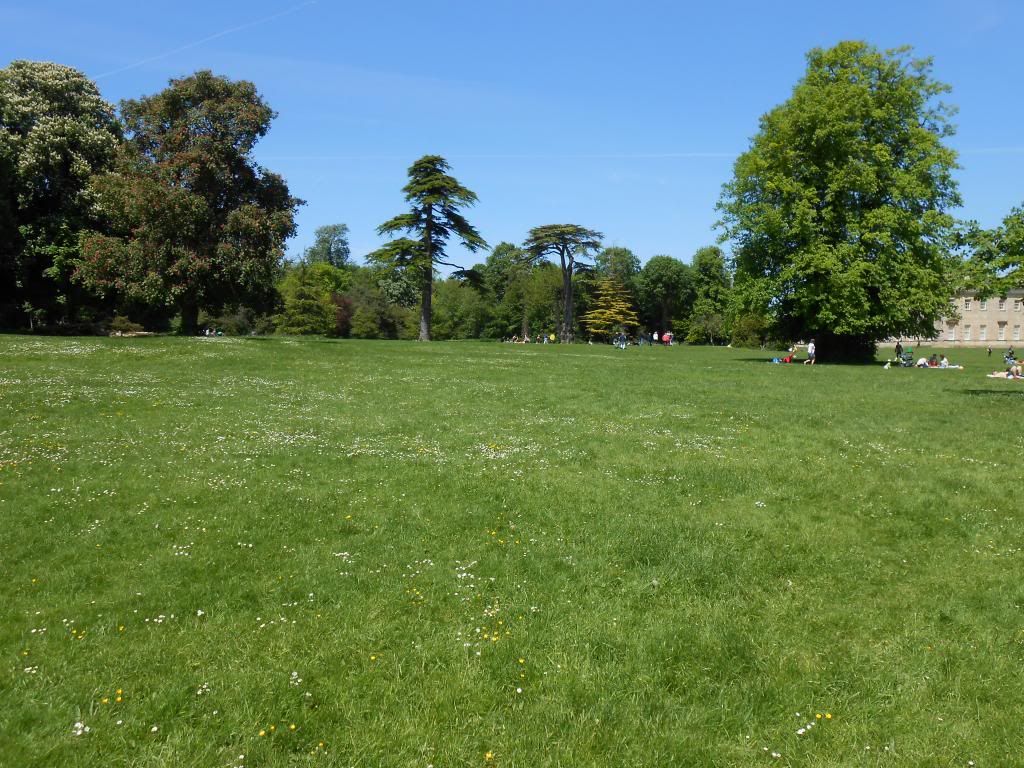 There is a woods, a play area and this little out-building selling tea, light lunches and ice cream on the grounds.
My sincere thanks go to MoodyJill, Jill's husband and Victor Rust for their assistance in locating these places.
Andrew and I had the good fortune to be in England for the UK tour this year too, so have a look at my photos of the Bristol Hippodrome concert on this site.  The concert was a great way to finish up my adventure.
I had a great time with this project, a labor of love, and I hope that everyone who views it will enjoy it.